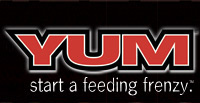 9-inch Houdini Shad Proves Versatility
Angler:

Blaine Anderson

Species:

multispecies

YUM Product:

Location:

Connecticut
Blaine Anderson is a Connecticut guide and has reported many times over the past few months. Here are some excerpts from reports on the success he's having with the 9-inch Houdini Shad.
The fishing has been decent so far during the striper run on the Connecticut River. The charters have been keeping me pretty busy with two trips a day. By far, the most productive lure I've used is the 9-inch Houdini Shad. We started off with Bubblegum, but as the water cleaned up, I used mostly Pearl. On our best day, we boated 30 stripers between 30 and 35 inches. Last night I finally had a chance to fish on my own and landed a beast of a fish ...
---
I just wanted to let you know how hot the 9-inch Houdini Shad is out here for the stripers. It is by far the most productive lure I have thrown on the river. The one complaint that I've heard from everyone is that none of the shops can keep them in stock. The Houdini Shad holds up far better than other products I've used in years past. It is not uncommon for me to boat eight fish on one Houdini Shad before I have to put a new one on. That is unheard of for a soft plastic.
The Houdini Shad continues to work well even in the salt water. Pearl is also the hot color in the salt because of the spring squid run. The arrival of the squid in our water is what draws the big stripers in for the season. I have seen numerous reports of fishermen cleaning their catch and finding them loaded with big squid. Guys are using them both unweighted and with big lead head jigs ...
---
I caught a nice smallmouth on the Bubblegum 9-inch Houdini Shad in the pouring rain. I've been using these baits a lot lately for pike. This was a pleasant surprise for sure ...
---
Terry and I met at 7 this morning in Portland and launched his boat. With a trolling motor to get us around on the river, our range was limited, but we made the most of it. The water was 38 to 39 degrees early on, but it didn't seem to matter much. I hooked up on my fourth cast with a nice little pike. She hit the Houdini Shad with a vengeance.
The water was warming as the sun got higher, but we still couldn't find any fish in the shallows. My first fish was in six feet of water, but as we moved deeper, I rigged up a Houdini Shad on a 2-ounce lead head and worked 12 feet. A short time later, I got another pike a bit smaller than the first.