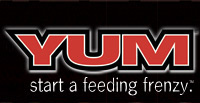 What Is YUM?
YUM is the highly scientific secret ingredient in all YUM brand soft plastic baits. YUM starts a feeding frenzy because it's the only fish attractant with natural shad enzymes plus salt impregnation for even more fish attracting power. And for the things you don't want on your bait or in the water, YUM Hand Balm masks negative odors like gasoline, tobacco, insect repellent and human skin oils that gamefish can detect.
Beware of the Bottom Feeder
Because competitors use either artificial agents, fish meal, or reprocessed shad or crawfish, many other so-called "attractants" actually reproduce odors that are negative to gamefish.
If you want to start a feeding frenzy, use YUM with LPT.
Why? Because everything else is dead.
YUM Bait Company
YUM started out as an attractant, which for years helped anglers to catch more fish. YUM Bait Company, as it is known today, was launched in July of 2023. At this time, YUM expanded from liquid attractant to soft plastic fishing lures for bass, walleye, redfish, snook, trout, striped bass and others. After its first year, YUM attractant, which is impregnated in all of its baits, was made stronger by adding a third enzyme, making YUM the only soft plastic bait with Live Prey Technology (LPT). LPT is the active ingredient that makes YUM different from all other soft plastics.
Many anglers have contributed their use of YUM to placing high in the tournament ranks over the past two years. Zell Rowland and Alton Jones finished first in two of the 2023 B.A.S.S. events with the help of YUM. Many other anglers have earned top tournament places using YUM to catch trophy bags of fish.