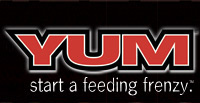 YUM Beavertails land Crappie USA Win for Huckabee, Dolahon
Todd Huckabee of Oklahoma City and Gary Dolahon of Broken Arrow, Okla., weighed in 13.91 pounds of crappie to claim first place in the Crappie USA fall qualifier on Ft. Gibson Lake near Wagoner, Okla., Oct. 30, 2004. The team used 2-inch Carolina Pumpkin Chartreuse YUM Wooly Beavertails and 2-inch Black and Chartreuse YUM Vibra King Tubes to post the win, which paid $1,100.
Storms moved through the area the night before the tournament, but daylight evolved into sunny skies with light wind. Water temperature hovered in the mid 70s. These conditions presented a unique situation to anglers.
"It was definitely a slow bite," Huckabee said. "Everybody was talking about they had caught 30 or 40 fish. We caught 20 all day long, but every fish we caught was over a pound."
Huckabee fished two to 20 feet deep on the northern end of the lake. He said the key to his win was knowing exactly where the bigger fish were.
"I knew how the fish were relating to the current," Huckabee said. "The big ones weren't in brush, where everybody was fishing. They were associated with timber, but weren't in it. You had to move five or six feet from the stump to the downstream side of it.
"The fish shouldn't have been there in bright sun and clear water, but they were more concerned about current than shade," Huckabee said.
Huckabee's crappie bait of choice, the YUM Wooly Beavertail, is the ideal bait for fishing cover for crappie. It creates an unusual profile in the water and its unique large-rib design creates great vibration. The thick head makes rigging a snap.
The YUM Wooly Beavertail is available in 2-, 3- and 4-inch models and 12 colors, as well as Huckabee's signature color, a black body and pink tail 2" YUM Wooly Beavertail, which is available only online at www.lurenet.com.
The YUM Vibra King Tube features oversize ribs that create unique vibrations that cause tremendous water displacement to attract fish.
All YUM baits are supercharged with Live Prey Technology for even more fish attracting power. The Live Prey Technology (LPT) behind YUM simulates the release of live baitfish enzymes, which trigger feeding habits of fish.
For more information on the YUM Wooly Beavertail and YUM Vibra King Tube, go to www.lurenet.com.
Reknowned crappie tournament champion Todd Huckabee relies heavily on his signature Black and Pink 2" YUM Wooly Beavertail when going after giant slabs in the waters of Oklahoma. Whether he's guiding for clients or filling a limit for weigh-in, Huckabee can be found in his YUM boat vertically jigging YUM soft plastics such as the Wooly Curltail and Vibra King Tube.