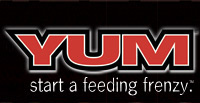 Plastic For Pike
Angler:

Ron Anlauf

Species:

Northern pike

Length:

41 inches

YUM Product:

Location:

Northern Minnesota
A desperate situation calls for desperate measures, like substituting plastic for live bait.
On a recent trip to northern Minnesota for monster pike, I forgot the bait that was to be used behind giant jigs and a decision had to be made -- either take the time to try and find some bait or improvise using what we already had. We chose to improvise and the decision proved to be a good one.
One of the hot early season pike patterns on the lake we were on is trolling heavy 1-ounce jigs tipped with a big sucker minnow over shallow flats. Even though the action takes place in relatively shallow water (five to eight feet), it takes a big jig to run close to the bottom at the high speeds the technique requires.
Trolling forward with the 150-horsepower main motor gets you moving, and the extra speed seems to help turn the big pike on. In fact it often takes more throttle than just an idle speed to get a reaction.
The heavy jig has a stout main hook and a stinger treble attached to a steel leader and is designed for hooking on a big minnow and dealing with a mouthful of barracuda-like teeth. Without the sucker I decided to try a white 9-inch Yum Houdini Shad in its place.
I rigged up the big soft plastic bait the same way I would a minnow. That meant running the main hook up from the bottom of the bait and out through the middle of the head and sticking the stinger on top with one hook buried. That keeps the stinger hook off the bottom and prevents it from snagging up or becoming fouled with unwanted debris.
The whole thing produces a massive profile and is exactly what you need when targeting larger northern pike, which are at the top of the food chain and aren't afraid of anything. Smaller baits might produce more action, but if it's a real trophy you're after, bigger is definitely better.
After rigging the plastic and dropping it overboard, there was nothing left to do but get going and wait for something to happen. It wasn't long before a big 36-inch pike hammered the bait and doubled over the rod in the holder. After an extended battle, the fish was photographed and released and some confidence in the fake bait was starting to build.
The next fish busted the surface right after hooking up and measured a whopping 41 inches, and erased any doubt I had about pike and plastic.
Live bait certainly has its time and place, but more often than not, fake baits are proving to be more effective than the real thing. It just takes some innovation to find out the where and when -- or in my case -- simple desperation.