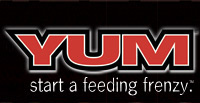 ANOTHER YUM HAWG!
Angler:

M. Sullivan

Date:

2/2/05

Species:

Largemouth Bass

Weight:

13 lbs 9 oz

YUM Product:

YUM Wooly Hawg Craw (white)

Location:

Salt Springs, Florida
Comments: "This big girl was in 6 feet of water and hit the 4 inch Wooly Hawg Craw in Salt Springs, Florida. After the longest five minutes of my life including one jump and a nasty head shake next to the boat my fishing partner finally netted her. When we lifted the fish out of the water the net actually bent in half. She was released after we weighed her at 13 lbs. 9 oz."
Other Lurenet Products: Silver Thread Fluorocarbon 17 lb. Line, Excalibur 3/0 strong wide gap hooks, Excalibur 3/8 oz. bullet weight. (pegged)