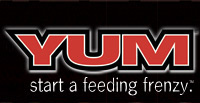 Drop Shot Tricks
By DEMARIUS ZACARIAS
Two of my favorite baits to drop shot are the YUM Wooly Beavertail and the Houdini Shad. What makes these baits my favorites is the fact that they are both under utilized. As a pro angler we capitalize when other anglers don't use certain baits.
I choose bait size (2 or 3 inch) based on how finicky the fish are. After making selection on Wooly Beavertail size, I tie together my drop shot rig that consists of 6-10 lb. Silver Thread Fluorocarbon. Silver Thread Fluorocarbon is a very important part because of its low memory (resistance to curly-Q badly) and abrasion resistance. Next, I tie on a 1/0 Excalibur Tx³ Wide Gap hook. To finish the off the process I'll tie a knot at the end of the line and slip on Excalibur Tg Drop Shot weight.
When I put the Wooly Beavertail on the hook I prefer to go with the traditional weedless approach for all situations. I hook the Houdini Shad through the head. By doing this it will help the fall fate. Also, trimming the tail increases fall.
Demarius (Zac) Zacarias, of Van Buren, AR, competes on the Central Pro-Am Tournament circuit.