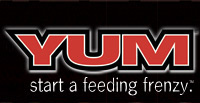 Most Effective Lure Ever Made
By ALTON JONES
The YUM Dinger is, simply put, the most effective bass catching lure I've ever used. Period. During the past 12 months I've won about $160,000.00 on this one lure and I want to share a couple of techniques that have proven to be quite effective for me on the Bassmaster and FLW tours.
Most of the time I fish this bait using a weightless Texas-rig. For the 5" Dinger use a 4/0 offset hook and for the 4" use a 3/0 hook. Look for visible targets in shallow water such as a stump, rock, weed clump or even a hole in the weeds. Cast the bait as close to the target as you can and feed it a little slack. Then just let it sit. How long should you let it sit before you move it? I use the two-second rule, which means let the bait sit and sink for two seconds for every foot of water depth. So in two feet of water I'll let it sit for about four seconds. In four feet of water I'll let it sit about eight seconds.
Now it's time to tighten the line and see what the bait feels like. If you feel any pressure or see any movement set the hook hard! I usually do not work Dingers all the way back to the boat. I'll simply shake it in place for a few seconds. If nothing happens bring it back in and make another presentation. I recommend using 15-20 pound test line for this technique because of the size of fish it attracts.
Another way to fish the Dinger is "wacky" style. Use about a 2/0 hook and rig the bait through the egg-sack (middle section). This exposed-hook method is great in areas with little or no cover such as sand flats, rocky points, or sparse scattered weeds. I usually fish it slowly, but try "ripping" it back to the boat with a stop and go retrieve in clear water.
Dingers really shine when the bass are in water five feet deep or less, but can be used in deeper water by simply adding an Excalibur Tg worm weight to the nose. You'll be amazed how effective it is as a flipping bait and even on a Carolina-Rig.
Watch Alton as he explains how to fish a YUM Dinger.
Alton Jones is one of the most consistent and accomplished professional bass anglers of all-time. Alton, who is an 8-time Bassmaster Classic contender (consecutive 1996-2003), has career winnings over $1,000,000. Alton's most recent victory was a 2003 Bassmaster Tour win at Clear Lake, Calif. - which was won on a YUM Dinger!