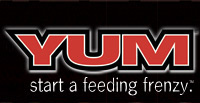 A Bait with Multiple Applications
By MITCH LOOPER
The YUM Dinger. What a bait. We have only begun to realize the applications this bait will work in.
One way I found it works is drop-shotting in current. I discovered this technique fishing on the Mississippi River in Minnesota. The current was strong, but the river was low and very snaggy. We had some success with a 3-inch YUM Dinger rigged on a jighead, but we lost a lot of jigs. Since I had to run the trolling motor in that current I didn't have the luxury of sitting down and retying often. I had to find a way to present that bait without having it snag all day long.
Enter the drop shot. I had an idea that it just might work. So I went to the local bait store and bought some 3/8 oz. lead bass casting sinkers (I know Excalibur Tg Drop Shot Weights have a better feel, and I like them better, but for this application I felt that lead might be better, read on...) to deal with the current. With all the rocks and snags, I thought if I mashed the lead sinker flat with my pliers it would come through the rocks easier (you can't mash tungsten). So, I mashed a few sinkers, rigged up a spinning rod with 8 lb Silver Thread Fluorocarbon, tied on an Excalibur 1/0 Tx3 Extra Wide Gap Hook, with about 12 inches of line hanging off the tag end and attached the bass casting sinker to the tag end.
I rigged a 3-inch chartreuse YUM Dinger Texposed on the hook and away we went. Out of nine days of fishing the river this proved to be the best rig we tried! I caught over 50 smallmouth the first day I tried it, fishing water that my two partners had already fished, and I caught more than both of them combined! And I had plenty of good ones, too, as most were over 2-pounds with several over 3-pounds.
The way I fished this rig was to cast quartering upstream, let it hit bottom, keeping my line tight enough to let the current slowly drag the rig downstream and bounce over rocks and fall into depressions. The bites were about what you might expect for this situation -you would just stop feeling anything. When this happened it meant a fish had come between my sinker and me. I would just reel fast until I got tight with the fish, then sweep the rod and keep reeling, that is until the smallmouth started taking drag! I only lost two or three rigs in a whole day of fishing! That was the real deal for the man who had to run the trolling motor.
The only thing I would change from that initial experience is my type of weight. I would use Excalibur Tg Drop Shot Weights if the bottom was not too snaggy because they give you a better feel. Also, you would want to use a lighter weight in slow current, a heavier weight in fast water. In my mind, the best presentation of this rig is when it is weighted so that it stays in contact with the bottom yet still washes slowly downstream with the current. You should only occasionally have to move the bait with your rod.
That is all there is to it. It is a very simple, yet very effective way to catch bass in current situations. I firmly believe I can catch bass in current anytime with the 3-inch YUM Dinger on a properly weighted drop shot rig. Actually, it is so easy I think anyone can!
Mitch Looper lives in Hackett, Ark. Mitch is renowned as being one of the world's best trophy bass anglers.
Purhcase the YUM Dinger at Lurenet.com or your local dealer.