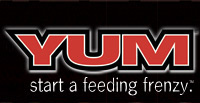 My Secret Weapon
By ALTON JONES
The Rib Fry is one of my "secret weapons." I use it in many different situations because when conditions get tough, it will get me some bites – no matter what.
It is the ultimate Carolina Rig bait, especially under blue bird skies. Use a 2/0 Excalibur Tx3 X-Strong Wide Gap hook and a 1 oz. Excalibur Tg Tungsten barrel weight to help you feel every bottom feature. This technique will get you bit when nothing else will.
You probably knew how good the rib fry was as a Carolina Rig bait, but I bet you didn't know that it's one of the best flipping baits on the market. Its compact shape allows it to penetrate heavier cover better than any other lure. Perfect places to flip the Rib Fry include matted weeds, floating "trash" and logjams. Use a ½ oz Tg weight and you'll be amazed where you can put this bait.
Its compact size gets bites even on the toughest days, yet the ribs provide enough vibration to tempt even the biggest bass.
Alton Jones is one of the most consistent and accomplished professional bass anglers of all-time. Alton, who is an 8-time Bassmaster Classic contender (consecutive 1996-2003), has career winnings over $1,000,000. Alton's most recent victory was a 2003 Bassmaster Tour win at Clear Lake, Calif.