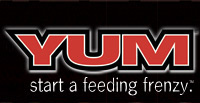 YUM Dinger Is My Go-To Bait
The YUM Dinger is my "go-to" bait. I never used to fish with soft plastics just because of lack of knowledge. But the Dinger makes it simple. Texas rig it, cast it, let it set, lift up on the rod tip slightly, if it feels heavy, or you see your line move, set the hook and gently work the big bass into the boat. I landed a 6 lb largemouth in Feb. of 2004 when the temperature was 32 degrees with a Carolina Pumpkin Chartreuse 4 inch YUM Dinger using green 6 lb test Silver Thread AN40 fishing line. I'm hooked.
-Justin, Ft. Smith, AR
Hisaw, Zellamander™ Fool Big Bass

FORT SMITH, Ark. (March 15, 2004)
Hisaw, of Valliant, Okla., caught a 13.4 lb. largemouth on Broken Bow Reservoir on March 3 with a YUM 7" Watermelon Red Zellamander. The bass is unofficially the 12th largest caught in Oklahoma state history.
Hisaw purchased the package of Zellamanders, which are a twin-tailed soft plastic lizard created by famous bass pro Zell Rowland, at a Wal-Mart store in Hugo just prior to his fateful fishing trip. He had never used the bait before. However, this day he chose to give the unique YUM product a try.
Hisaw said he grabbed his first Zellamander out of the package and immediately caught a 15" smallmouth on a Carolina Rig. He followed the smallmouth with a 3-pound largemouth...and then the big fish hit.
"The package said the bait causes a feeding frenzy," Hisaw said. "I guess I've already done that."
YUM soft plastics are laden with Live Prey Technology, a unique formula of enzymes that mimic those released by live baitfish when under distress, creating the opportunity for every cast to cause a feeding frenzy.
Hisaw, it appears, agrees. BUY Zellamanders at your favorite tackle retailer or at Lurenet.com.