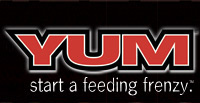 Flipping YUM Dingers
By KYLE MABREY
The YUM Dinger offers many possible applications to anglers. It has been fished many different ways and catches fish however it is used. Flipping is one of my favorite ways to fish the YUM dinger. There are several advantages to fishing it this way.
The YUM Dinger's slim profile makes it easy to slither through thick cover. It also will require less weight to do so. I will vary the size of my weight from 1/8 oz. to 1 oz. depending on the thickness of the cover. Its soft texture increases hook-ups, plus it features Live Prey Technology, which causes the fish to take the bait and hold on. If the fish feels me, he will not blow the Dinger out like conventional baits, because of the LPT that enhances the Dinger.
Choosing a size and color most suited for your water is always important. The slim profile of the Dinger is highly effective on post-spawn fish. When choosing what size to use, I follow a simple rule: if I am fishing a lake where I expect to catch 1-3 pound fish, I will typically use the 4-inch. If I expect to catch fish larger than 3 pounds I will use the 5-inch. I will downsize to a 4 inch after a hard cold front. I have flipped grass behind people who were using jigs and tubes and caught fish with the Dinger that ignored their lures. Use a color that you have confidence in, and remember, darker color in dirty water or at night, or lighter in clearer water. My personal favorite is Black Neon Silver.
Good Fishing!
Kyle Mabrey, of Birmingham, Ala., competes in the Bassmaster Tour.