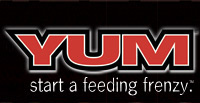 Little Things Do Count
By CHIP PORTER
There is one reason I am qualified more than most to write about a hand balm, and that's simply that I fish for salmon and trout. There is no other gamefish species I know of that possesses the insane olfactory sense that these fish do.
I remember one time in a tournament situation I was talking with the guy who had just taken first and asked him about the little details he was so finicky about. I wondered if it really made a difference and his response was, "When the fish want to bite, they're gonna bite, but when the fish don't want to bite, it's those little things that turn the trick."
I always remembered that advice and really took it to heart. YUM Hand Balm is one of those facets that would be easy to overlook. On the other hand, it really doesn't take that much effort to take care of that little detail either, does it?
I can tell you that it makes a difference. As a former smoker, I can tell you that it even made a difference on my stinky smoke stained hands when handling lures and bait. I urge you, if you want to stack all the cards in your favor, get in the habit of having all your boat partners using YUM Hand Balm on every trip.
Click Here to read what Hand Balm is and how it works.
Chip Porter is considered the most recognized and approachable person in Great Lakes Fishing by a wide margin. Chip is the host and producer of the hour long Chip Porter's World of Fishing Radio Show on WSCR 670AM in Chicago, Field Editor of North American Fisherman Magazine; Field Editor of Great Lakes Angler Magazine; Fishing Pro Editor for Midwest Outdoors Magazine; Freelance contributor to Walleye In-Sider; In-Fisherman, Musky Hunter and a host of other regional magazines. You can also find him on your television dial as a host of Midwest Outdoors TV shows and guest host and fishing expert on North American Fisherman on ESPN, along with appearances on In-Fisherman and Jim Henley's Northeast Outdoors. Chip also films highly popular instructional fishing videos specializing in the Great Lakes. For information on Chip Porter or to book a guide trip by the Great Lake's most recognizable Captain log onto www.chipporter.com.